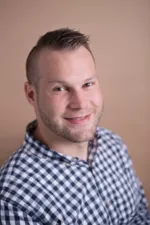 Dr. Marsh is no stranger to the area and community. He is a 2007 graduate of Shawnee high school, where he excelled for the Shawnee football team lettering all four years and helping them win the WBL and reach the state playoffs in 2005. Dr. Ken Marsh then went on to Wilmington College where he was a three year letterman and All-OAC player. While there he earned his B.S. in Athletic Training in 2012. Through his academic program Dr. Marsh was able to work with many athletes in many different sports including being the lead senior athletic trainer for the college's women's softball team. During that time he was leading the way in all the treatments and care given to the student athletes throughout the whole season. Dr Marsh was very fortunate to continue his education and have a yearlong internship with the Cincinnati Bengals of the National Football League during the 2010-2011 season.
Dr. Marsh then attended Logan University in St. Louis Missouri were he obtained another B.S. in Life Science. During this time Dr. Marsh graduated with his Doctorate of Chiropractic in August of 2015. While there he was able to work with many different people from young newborn children, adults, elderly patients, athletes and pregnant women building a vast knowledge of the different problems that may occur throughout all of these age groups and how to properly treat them. He learned many different techniques and ways to treat the body which include Diversified, Logan Basic, Activator, SOT, and Active Release Technique. In his final semester of his graduate program Dr. Marsh was fortunate enough to do a preceptorship at Rabe Chiropractic where he was able to learn the practice, follow the other doctors meeting many of the patients. It also allowed him to jump start building his practice by treating patients. Dr. Marsh has been at Rabe Chiropractic since September 2015.
Dr, Marsh is married to his beautiful wife Sara and they have two children, a boy Beckett and a girl Arden. He also has two dogs Vinny a cane corso/boxer mix and Tyson a boxer. Dr Marsh loves spending time with his family especially with his children who keep him young and going. Dr Marsh likes to stay active working out regularly as well as playing softball in the summer coed league.